The most effective way of learning to recognise your individual pattern of fertility and infertility according to the mucus signals is to record your observations each day in a chart. The aim is to identify on any day whether sex could or could not result in pregnancy.
When you first learn the Billings Ovulation Method® you abstain from sex for two to four weeks while you learn to identify your mucus patterns without the presence of seminal fluid to confuse your observations. After this learning stage you'll be ready to use the Rules of the Billings Ovulation Method®.
Keeping a record of your observations becomes second nature. You simply pay attention to the sensation and appearance of the mucus at the vulva during the day, and write a few words on your chart to describe it at the end of the day. You then use the coloured stamp or write the symbol to represent what has happened, for easy recognition of your pattern. Your Billings Ovulation Method® tutor will explain the use of the stamps and symbols.
Don't worry if your pattern looks nothing like someone else's. Every woman is an individual with her own individual pattern. Most women quickly grasp the pattern of their fertility, and a trained tutor can ensure that you're correctly interpreting your chart.
Online Charting & Apps
Keeping a daily record of observations is essential for recognizing patterns of fertility and infertility. During the learning phase or any time you have questions, your Accredited Teacher of the Billings Ovulation Method® will assist you as you learn to recognize your own individual patterns.
Ways to keep your daily record:
• Paper charts and coloured stamps, available from your Instructor or here
• Personal Record Chart - for printing or use on computer
• Online or with an app! Share your chart with your Accredited Instructor quickly and easily at www.fertilitypinpoint.com
Fertility Pinpoint™ is WOOMB International's official Online Charting System. It is a computer based system which can also be used on your mobile phone or tablet. It gives you access to your teacher through its messaging system.

'NFP Charting' is also approved as an authentic App for charting the Billings Ovulation Method®.
A word of caution about fertility charting sites and apps:
There are a variety of charting websites and apps available, with new ones emerging all the time. Many cannot be used to keep an accurate Billings Ovulation Method® chart. The site or app may restrict users to a limited number of predetermined sensation and/or mucus descriptions. Some apps classify mucus as fertile or infertile in a way that contradicts the research on cervical mucus that is the foundation for the Billings Ovulation Method®. Some claim that they are compatible with the Billings Method™ (for example billingsMentor or ovulationMentor), but have not been approved by WOOMB International Ltd. Many are based on Rhythm calculations and Rhythm was proven, many years ago, to be an unreliable method of understand fertility and planning your family naturally.
Billings Ovulation Method® code for charting using
stamps or symbols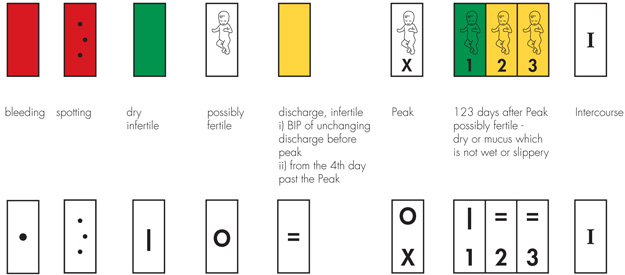 Red or • for days of bleeding or spotting.
Green or l for days when no mucus is observed and there is a sensation of dryness.
White or O for days of mucus. Indicates possible fertility. Also used for the day after sex in the pre-ovulatory phase.
Yellow or = for infertility. These may be days of either unchanging discharge in the pre-ovulatory phase, or discharge after the end of the fertile phase.
The chart below is of a typical cycle. You make your recording using EITHER the coloured stamps or the symbols (not both). Your Billings Ovulation Method® accredited tutor will help you understand the correct use of the stamps/symbols and to interpret your own individual pattern of fertility/infertility as shown by your chart.